Yaayyy! I've completed White Mountains painting.
(If your monitor is like mine, the actual painting is about 30% darker than this photo appears.  It's not quite so "New England quaint" as this picture may look.)
I started this painting of the New Hampshire landscape – focusing on a Whitefield, NH, hotel – in February 2010.
The painting been through several incarnations.
This week – 17 March 2011 – I completed this painting and I'm (finally!)  pleased with it.
The recent tweaks & changes made it "just right" for me.  Those changes included lightening the roof and adding more lit windows.
I'd tried a dark roof – figuring (logically) that it'd be in shadow, opposite the light of the moon – but the entire building seemed to get lost.
No matter what I did with the lights in the windows, or how much detail I added (in contrast with the deliberately simple landscape around it), nothing made the hotel stand out.
Changing the tone of the roof – from dark to light– helped right away.
Then, I experimented with the windows.  I wanted the hotel to look welcoming but not quite full.
In addition, I wanted the hotel to look very cozy and home-like… but also have that slightly other-world ambience that's part of the Spalding Inn's charm.
Now this 24″ x 30″ oil painting is on my living room wall, drying.
Taking this painting through its many stages has reminded me of the dance that artists do:  We immerse ourselves in the rich emotions of the creative process, and then we step back to coolly evaluate the work in progress.
That balance is key.  Unless the emotional content is there, the art can be vapid, no matter how great the artist's technical expertise.
However, unless the artist can remove him- or herself from that emotional investment, at least enough to see what's working and what isn't, the painting won't reach its full potential.
Last night, I felt that the painting was probably completed. This morning, when I looked at it again… yes, I'm happy with it now.
A somewhat dark follow-up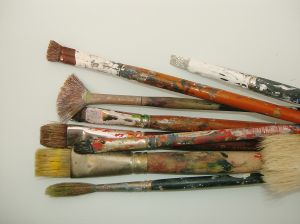 Re-reading this post, I see I was treating part of this story lightly, because it's personal.
However, I've realized that it's also an important part of the story of this painting.
The problem is, it's not necessarily a happy story, so you may want to skip it altogether.
…
…
…
Okay, if you don't mind stories about grieving and solace, here it is…
The day my mom passed away – on April 19th, 2010 – all I could think about was getting in the car and driving somewhere that would keep me above the grief and sense of loss.
I knew that my mother would not want me to spend the day crying; she was like that, about death.
So, with my (adult) daughter who was visiting me, I got into the car and drove to Whitefield (NH) and the Spalding Inn.
In New Hampshire's White Mountains, that town is literally above the troubles of daily life.
Also, I'm among the second generation (in my family) to spend time at the Spalding. Maybe that's why I felt drawn to it, that day.
Or maybe it's because the hotel's fresh air and magnificent views connect me with Nature.  The underlying rhythms of everyday life – the "Circle of Life" perhaps – make more sense to me in that context.
Everything seems right with the world.
Whatever the reason, the Spalding gave me a sense of serenity last April.
It was a "destination," as I've suggested in my concept for this painting. I'm not sure why reaching a destination seemed to lend necessary closure to the moment, but it did.
I completed this painting nearly a year later, in March. That was the week of my mother's birthday. And that made perfect sense.