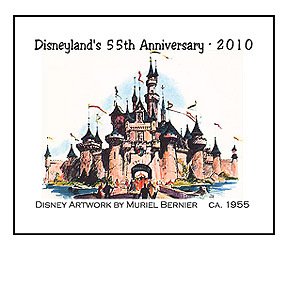 Disneyland is celebrating its 55th anniversary. I grew up surrounded by Disney art, figures, and I watched the Mickey Mouse Club every time it was on.
I'm commemorating Disneyland's anniversary with an artistamp.  It features art by my mother, Muriel Joan Bernier (1919 – 2010).
Click on the image to download a PDF copy of the actual stamp (smaller than illustrated).
If you're not sure what an artistamp is, you can learn more at one of my other websites: Artistamps – Definition at Aisling.net. (Page will open in a new window.)
The artwork at the upper left, which was also on the Fantasyland board game, was my mother's original art*.  She freelanced for Disney in the 1950s, and I remember her drawing this picture and many others for Disney.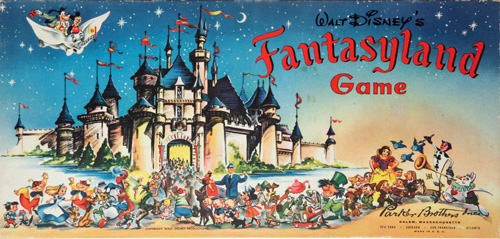 (The cover of the Fantasyland board game, above, and the actual board shown below, are entirely my mother's artwork.)
One of the best benefits of growing up with a mom who drew for Disney is that we'd go to the Disney movies over & over again.  My mother would sit next to me, with paper and pencil, and she'd sketch ideas for new artwork as we watched… well, whatever Disney movie was at the theatre that week.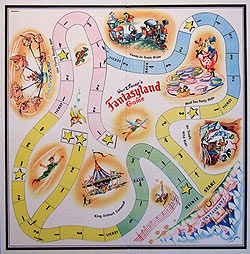 My mom did all the artwork for the Fantasyland board game, and most of the artwork for the Steps to Toyland game, also a Disney-related theme.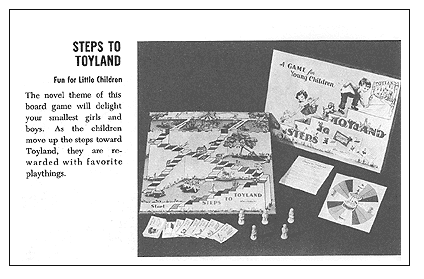 (Scanned from a vintage Parker Brothers Game catalogue)
Though Mum did lots of artwork for Disney, she never visited Disneyland when I was little.  Her first visit to Disneyland was with me, in 1978.  She loved it.
I remember asking her what her favorite attraction was, and she answered without hesitation, "Space Mountain… and I will never go on it again!"  Then, she laughed.
In the late 1980s, Mum visited Walt Disney World with my children and me.  We had several days there, and stayed at the top floor of the Contemporary Resort.
We went on nearly all the rides, but – as Mum said – she wouldn't go on Space Mountain again.
Every moment was great and filled with awe.  For us, there's no such thing as "expecting too much" at Disney World.
My mom passed away earlier this year, and she didn't want me to post her artwork online.  (My mother's always been eccentric.  Once she decides something, she rarely changes her mind.  Questioning her about it… well, it was pointless.)
This, however, gets around that.  The images shown above – including the artwork for my artistamp – were already online… just not credited to her.   I know she'd be irked if she realized that her artwork was displayed without acknowledging her as the artist.  So, if anything, this corrects that.
So, here it is as an artistamp.  Ordinarily, I add my artistamp postal name – Ballynafae – and a postage amount (usually 3p) to make my artistamps look more stamp-like.  In this case, it didn't seem right, so I added the basic text and here it is, as-is.
You can download my artistamp as a stamp-sized image, either with a stamp-like edge (as a graphic), or as shown at the top of this post.  (Both of those links open as PDFs.)
I still miss my mom, but moments like this bring back happy memories of an extraordinary childhood.
…Wherever you are, Mum, your artwork is still bringing smiles to Disney fans.  Thank you for such wonderful memories!
*My mother was primarily a painter.  Though she graduated from Massachusetts College of Art with a major in Portrait, she loved painting landscapes and still lifes.
However, to help pay the bills, she freelanced for a variety of companies, before working on Disney projects.