It's been awhile since I posted my recent art.  Oh, I've been creating art; I just haven't had time to post it here.  It's been a busy six weeks+.
I may talk about some of these works in more detail, later.  For now, this is a catch-up post.  A long one.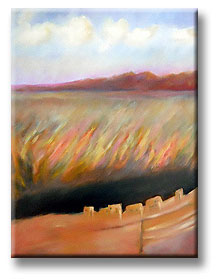 I completely revised the colors in the Anasazi scene, and that painting is now ready to ship.  I like it.
Similar to my Spalding Inn painting, this isn't in my usual style.
However, the Anasazi painting was painted from an inspiration and some photos, while the White Mountains landscape was an exercise in a deliberately different style… more  Tomie de Paola, I guess.
I also took out a painting that I'd started a couple of years ago, featuring three boats in the water.  I'm working from a photo that I took along coastal Maine.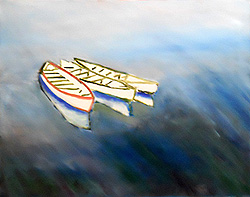 Initially, the painting had a dock in it and the painting was heading in a very realistic direction.  That means it bored me out of my mind in a matter of days, so I parked the canvas in a corner in my studio.
Last month, I painted over almost all the water.  That's how the painting looks now, at right.
It's less than halfway completed.  For example, the boats are just a few paint strokes.  I'll work on them more, next.
Then, I think I want the water to have a lot of variety, but… well, I'll see when I get to that point.
Pandorica series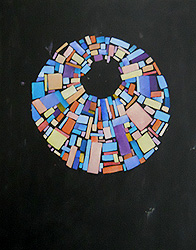 I also experimented with some Pandorica paintings.  I've learned two big things:
Oil paint takes far too long to dry, when working with stencils, and…
Even with acrylics, this concept takes far too long to complete.
I need to do a lot more work on this painting.  Oh, it's about 70% finished, but it needs a lot of touch-ups.
I cut the stencils myself, to get the exact level of irregularity that I wanted.  And, laying this out, I used the stencils within a bigger, circular stencil that was cut into wedges.
It was one of those things that sounded wonderfully fast & simple in my head — and terribly organized — but in reality it wasn't fast or simple.  (However, it was very organized.)
Some of the rectangles, especially the yellow & orange-ish ones, were overpainted with interference gold. That's a translucent, metallic paint.  Until I added that, some of the colors were far too subdued.
This painting, above on the left, will probably be the only Pandorica painting of its kind.  It's also the only acrylic painting on this page.  It's 16″ x 20″.
I may come up with a different approach for Pandorica-themed paintings, later, but — for now anyway — this will be a one-of-a-kind work.
Oh, I'm pleased with it, but the hours that have gone into this… wow! And, it's not even finished yet.
Meanwhile…
Sunrises and sunsets
I've continued painting sunrises and sunsets as the mood strikes me.  They've gone through a radical change, and that fascinates me.  I'm never sure why my works turn out as they do.  It's like they have their own energy and voice.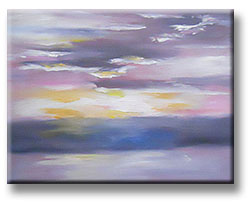 It wasn't an overnight change, but close enough.
The first "different" painting was one where I did a lot more work with the light & shadows in the clouds.
That's it on the left.  It's 11″ x 14″, and the colors & style are very calm.
Perceptions series
The next painting after that… well, it's not calm. I'm calling these my Perceptions series.  Each of them works with perceived color and with a very lyrical approach.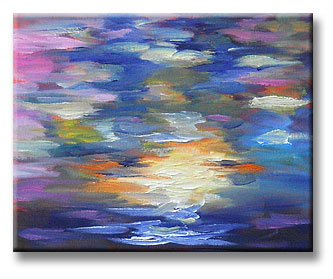 I was looking through a crop of trees, in the direction of the sunset.  The light shining through the evergreens was almost blindingly bright for awhile, and the colors of the sky were sort of all over the place… blue here, pink there, and so on.
All in all, it looked like a crazy quilt of colors peering through the tree branches.  So, that's exactly what I painted.
It's oil paint on 8″ x 10″ canvasboard.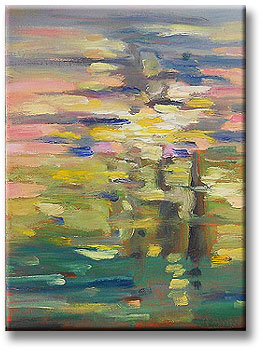 A few days later, another interesting sunset caught my attention. Same crop of trees, and same crazy-quilt effect.  However, I was especially intrigued by the different shades of green.
Amid the trees, the colors seemed very yellow-green.  At the foot of them, everything was far bluer and more veridian green.
This one has such odd colors, it was particularly difficult to photograph accurately.
What really makes these paintings are the brushstrokes and thick paint.  I'm using soft, sable brushes, and they really lay the paint on in thick, juicy globs.  The whole thing is very sensual.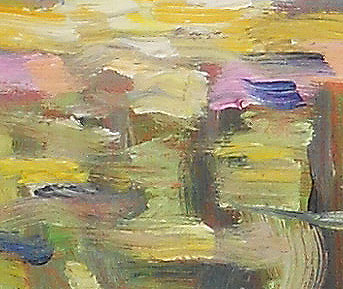 At right, you can see a full-sized section of the canvas, and it shows the texture of the paint I'm using.
There's an interesting balance of urgency and serenity in these paintings.
I like them.  They're odd, but I like them anyway.
So, last night I tried a more organized approach to these kinds of works.  (It's a Virgo thing, I'm sure!)
The sunset was lovely, and the colors were once again all over the place.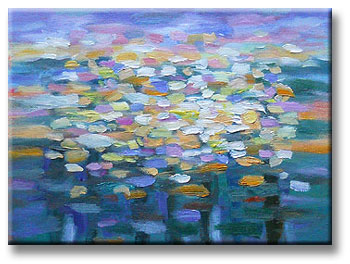 However, that simpler & more organized approach was far too left-brained.  The painting ended up taking over an hour… for a 9″ x 12″ sketch on canvas.  So, I won't do that again; I'll go back to my impressionistic/urgent approach, just glopping paint here & there to mimic the wild range of colors outside my window.
(Yes, I'm still calling them "sketches" though they're finished paintings.  I plan to use them as studies for much larger works based on the same concepts.)
So, those are my paintings for the past six weeks or so.  Not a whole lot of them, but I'm pleased with the results.
And really, I can hardly wait to see where I go with this new patchwork & perceptions approach to my work.