I'm beginning to work on larger paintings, based on some of my recent color studies and oil sketches.
The photo (above) shows the first stage of this painting.  I'm happy with at least half of it, so the finished work won't look tremendously different… or at least I don't think it will.
(Sometimes a painting has so much of its own energy, I'm not sure where it will lead me as I revisit it with successive layers of paint.)
This painting is based on my earlier Flurries Near Dusk color study of January 7th.  That's it, below on the right.
The original oil sketch was 9″ x 12″ and this larger version is 18″ x 24″ on stretched cotton canvas.  Both are oil paintings.
However, in the current work, I have the luxury of experimenting with more colors and richer hues.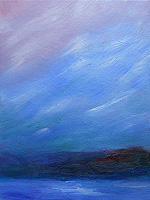 I'm aiming for a higher key in this work.  That is, warmer and brighter colors that are far more juicy than last Friday's color study.
I'm not aiming for Biblical drama in my work, but something that holds the viewer's attention, and makes you want to go back and look at the work, over & over again.
The current work may be one of several, based on the original oil sketch.  I'm intrigued by the idea of working in more extremely subdued colors than in the first piece… and then accenting the subtle colors in the hills.
For now, today's beginning pleases me.  It's passionate and rich, and includes elements that I want in the finished work.
Though some of the colors were only lightly scrubbed onto the canvas, the concept is clear and I know where I want to go next with this painting.