After reading Whistler's defense of his Nocturne series*, I was inspired to paint exactly what I saw outside my living room, after dark.
The sketch isn't elegant or detailed, but it does convey the impression of the scene that night.
My husband commented that it was probably the best that streetlight had ever looked.
Okay, it wasn't quite night.  Late in the day, snow clouds loomed like huge, dark, angry dust bunnies across the horizon.   It looked like night, so the streetlights turned on automatically.
A patch of light sky remained, and it's at the upper right corner of the painting.  The light from it highlighted the snow toward the foreground.
All in all, it was a very moody scene and it reminded me of Wuthering Heights: Dangerous, windy, and wild.
I'm still trying to tweak the color in this photo, because it's not quite accurate when I compare it with the painting.  However, it conveys the general idea of this sketch.
For me, this was one of those paintings that I couldn't not paint.  I saw the yellow-orange glow of the lstreetlight and the blues and purples in the scene, and I was almost irresistibly drawn to my easel.
Fortunately, my paints were already set up so I could capture this landscape quickly.
I like it.  It's moody and urgent at the same time. This is a small work, 8″ x 10″ painted in oils on canvas board.
—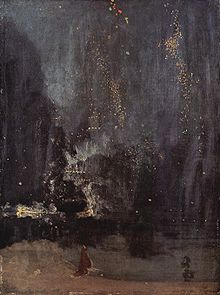 *From the trial in which Whistler sued critic John Ruskin for libel (after Ruskin published harsh criticism of a painting in Whistler's Nocturne series, shown at right):
Holker: "What is the subject of Nocturne in Black and Gold: The Falling Rocket?"
Whistler: "It is a night piece and represents the fireworks at Cremorne Gardens."
Holker: "Not a view of Cremorne?"
Whistler: "If it were A View of Cremorne it would certainly bring about nothing but disappointment on the part of the beholders. It is an artistic arrangement. That is why I call it a nocturne…."
Holker: "Did it take you much time to paint the Nocturne in Black and Gold? How soon did you knock it off?"
Whistler: "Oh, I 'knock one off' possibly in a couple of days – one day to do the work and another to finish it…" [the painting measures 24 3/4 x 18 3/8 inches]
Holker: "The labour of two days is that for which you ask two hundred guineas?"
Whistler: "No, I ask it for the knowledge I have gained in the work of a lifetime."
As an artist, author, affiliate, and Amazon associate, I earn from qualifying purchases of my own work and products I link to.