This website features Eibhlin's original artwork, including her paintings, drawings, collages, photography, mixed media art, and fabric art. (Her name is pronounced the English way, "Eileen.")
ARTIST'S STATEMENT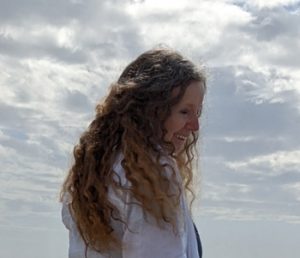 My work often starts with an external cue. Almost immediately, I'm building a creative vision around it.
That vision is usually emotional… the external connects with what's internal. It might be a passion. It might be whimsy. It might be something else altogether, but it's rooted in my emotional response to something around me.
In a landscape, it's when the light is "just so," or a detail fascinates me within a larger context. My goal is to convey the beauty of the moment.
This is one of my sunset sketches, capturing the light from our living room window in New Hampshire. It's on 8″ x 10″ canvas board. (You can click on this image – or any image in this post – to learn more about it.)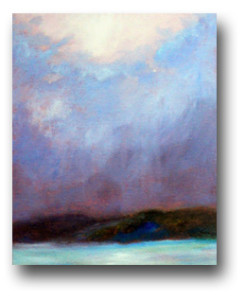 The next is a 36″ x 36″ painting to celebrate my nephew's 2017 wedding in Huntsville, Alabama. The open-air building is where the couple were married. I wanted to capture the joyous essence of the moment.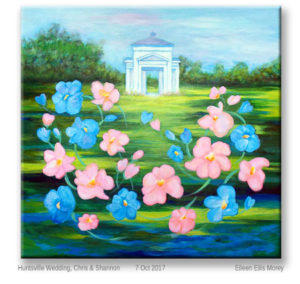 By contrast, if it's a collage, my mood may affect the elements I focus on. I might find resonance in a single image, a word, a phrase, or a texture… and I build out from there.
This collage started with the word "Resilient." The finished work is an 8.5″ x 11″ torn paper collage, completed January 2021.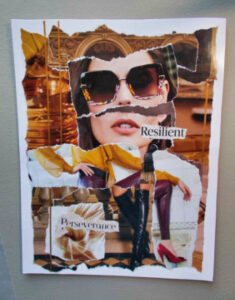 My drawings are different. While I often joke that "they just come out of the pen," they're usually triggered by a deep, internal need for self-expression. The finished work may have no obvious connection with what sparked it. Sometimes, I draw just to draw, and the subject is whatever seems easy at that moment.
This is from my Pandorica series (ref: Dr. Who). It's pen and ink, drawn freehand, and it's about 10″ x 10″.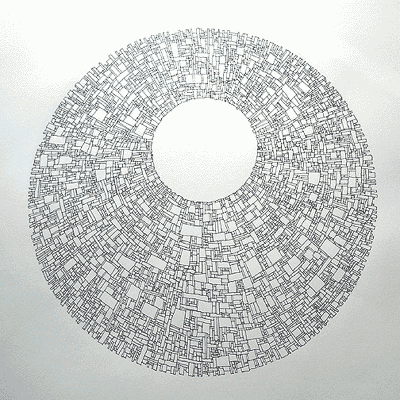 When it's statement art – like some of my fine art collages – my focus is usually on the rhythm of the art, and nuances of deep expression.
In general, my art mixes reality, mystery, memory and whimsy.
BIO
I'm a third-generation artist, in a series of five so far. My mother raised me unconventionally, with lots of time in museums and art galleries. On a gloomy day, Mum's frequent default was, "Let's go to the deCordova!"
As a teen, I was fortunate enough to study with Roger Mulford, one of the most creative, original, and inspiring people I've ever met.  His encouragement, plus the haven of my high school's Shakespeare Club, helped me rise above some daunting challenges.
Since age 14, I've worked as a freelance artist, designing everything from public library decor to the earliest Star Trek convention brochures, and then my own zines as well as illustrations for publishers. And, in recent years, I've designed book covers and illustrations for indie authors and publishers including Schiffer, Sterling, New Forest, and Dorling Kindersley books.
During the 1980s, you may have seen my quilts, wall hangings, and art dolls at these galleries and shops:
Harbor Browsery, York Harbor, Maine
Maple Hill Pottery
in Perkins Cove, Ogunquit & Auburn, Maine
Abacus Gallery, Boothbay Harbor, Maine

The Friend, Wiscasset, Maine
Twas the Night, Northeast Harbor, Maine
Jaffrey & Chase, Blue Hill, Maine
The Carriage Shop, Sullivan, Maine
I create fine art in my own name (eibhlin), with an adjunct career as an art journaler and coloring book artist. For the latter, I use the pen name, Aisling D'Art. I write other books under pen names, as well.
In my spare time, I enjoy baking cookies and homemade bread, listening to music, hiking, history, and genealogy.
INSPIRATIONS
I'm obsessed with color, balance, light & shadow… not necessarily in that order. And, in recent years, I've been drawn to statement pieces reflecting our rapidly changing society.
My art materials include everything from oil paints to fabric to torn paper. I usually select whatever media will express the vision most clearly, but sometimes I'll deliberately choose a challenge.
As artist, I'm very process-oriented.  Once the work begins, it's as if I'm immersed in the creative experience.
At least half of my work is sparked by an inner vision.  Often, the art process is a sparkling, exciting adventure.
Luminescence is a key element in much my work.  I think it's why I'm drawn to paint and photograph sunrises and sunsets, as well as glimmers of light and color in foggy landscapes.
For me, the highest compliment is when someone looks at my work, inhales in surprise and then whispers, "Wow."
I aspire to illuminate the past for inspiration, and live a life of transcendent elegance and simplicity.
To savor the ever-changing magnificence of nature and its connection with spirituality.
To share a reverence for the abundant beauty in everyday life.
My means of expression are usually the arts, especially the visual arts.  I'm inspired by nature, but also by music, literature, architecture and history.
When I need time for reflection or to renew my energy, I almost always go to the beach. Something about the ocean and fresh, salt air… they invigorate me. They bring me a sense of comfort, no matter what else is going on in my life.
I'm never sure where my adventures will take me, next.
Mostly, I keep returning to the arts and creative expression. That's what's authentic for me.
It's where I lose all sense of time, and revel in the beauty and whimsy of creativity and Nature.
PROFESSIONAL AFFILIATIONS
I was a juried member of EBSQ Plus, from its earliest days. My other memberships have included: York Art Association (ME), Concord Art Association (MA), International Plein Air Painters, and NH Plein Air.
---
MY CREATIVE FAMILY
My mother was fine artist Muriel Joan Bernier (1919 – 2010), from Massachusetts College of Art's Drawing & Painting Class of 1940.
My maternal grandfather was ceramics artist and inventor Napoleon Bernier (1894 – 1959), founder of California Paints, California Stucco, California Products, and so on. From earliest childhood, he was my hero.
My father was calligrapher, photographer, and political activist William B. Morey, Jr. (1912 – 1999).
My given name is spelled "Eibhlin" in the Irish tradition. I often use the simpler spelling, "Eileen." In English, both names are pronounced the same.
Today, I'm a happily married wife, mom, aunt, and – most recently – a grandmother.