Hi,
My name is Eibhlin. It's said "Eileen," the spelling I used for much of my life. Around age 40, I decided to start using the spelling I prefer. (Now, it's easy to tell when a telemarketer calls me. He or she always says something like "EYE-buhh-linn.")
I'm actually an artist. However, at some point, writing started crowding out my art, and… here I am. A writer.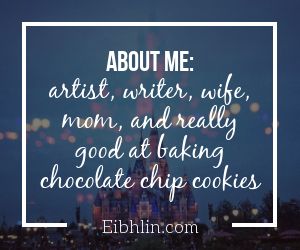 I've written articles. (Credentials include everything from Romantic Times to Herbal Quarterly to Lady's Circle, and a few hundred regrettable articles for WriteForCash.)
I've written books, mostly under pen names. Mostly related to history. I'm sort of addicted to Regency England and Regency romances. But, now and then, a cozy mystery slips into my backlist.
Two books are under my real name… they were written for convenience. People kept asking me the same questions, over & over, and I figured it'd be easier to throw everything-but-the-kitchen-sink into a couple of books. So, I did. I'm updating them in 2019, because – wow – they need rewrites. (That said, the basic information is still valid.)
I had a /writing website, but realized that other people are far more dedicated to posting regular writing advice. So, I've merged those articles with this blog… and the blog grew out of my rambling posts at Facebook.
So that's my story. And, oh yes, we live close enough to Disney World to see fireworks every night, and – when the wind is blowing in our direction – we can hear the Magic Kingdom's Main Street parades & performances, the train whistle, and the ferry horns.
I'm happily married, have three wonderful children, and – in my spare time – I'm shamelessly addicted to reality shows that include romance (like The Bachelor), and baking chocolate chip cookies. (My husband says he could have married me just for those.)