This is my 18″ x 24″ oil painting, Flurries Variation (13 Jan 2011). It's sort of a landscape, but also an abstract.
To be honest, it's a bit of an enigma for me.  Here's the story:
After I'd sketched-in the larger flurry painting – which turned out as a very high-key painting – I wanted to create a far more muted version.
The inspiration was my "Flurries at Dusk" oil sketch, shown below.
(Click on that image to see it larger and read more about it.)
My original vision for this variation had been the somber colors of the snowy evening, contrasted with the vivid colors on the nearby hills, especially near the crest of the hills.
So, I was determined to work with a very limited group of colors on my palette, and mute them as much as possible.
At the hills, I wanted to exaggerate the remaining reds and oranges left from the fall foliage.  Though the colors are actually very brownish in real life, it's still possible to envision what they were like at peak foliage.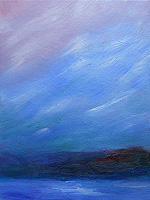 In the foreground, I wanted just a hint of the light reflecting off the fresh snow.
Two days later, it had gradually transformed into something very different.  The colors are eerie, almost gothic. I still don't fully understand what it is.
As the painting progressed, I began to get the idea that the dark mass was actually a forest, the yellow & orange colors represented a road — perhaps like the road along the fjord at Acadia National Park in Maine — and the foreground was the ocean.
Well, maybe.
Then, as I muted the sky colors and added what I thought was a white border of clouds, the scene looked like a storm.  The large, dark area could even be a huge wave, and the white would be the froth on top of it.  (HT suggested that it was a wave putting out the fire, represented by the yellow & orange notes.)
It's so unlike my usual work, I didn't know what to think.  I still don't.  Not really.
At first, I'd decided to put this painting aside before deciding if it was finished.  Then, a friend sent me a link to something an acquaintance – astrologer Michael Lutin – said about ongoing social changes being like a tsunami.
For some reason, that clicked for me.  I'm not sure why, and I still don't know if this painting is symbolic, lyrical or literal… and what it means.
However, I decided that this painting is complete, and I shouldn't change anything about it.
So, there it is.
About this painting:
Flurries Variation
Oil on canvas
18″ x 24″
13 Jan 2011
Private collection