As an artist, this is interesting.  I feel as if I'm finding my personal voice in terms of influences: Impressionism v. Tonalist & Luminist art. (Those links open in a new window and take you to Wikipedia.)
For me, Impressionism includes apparently disconnected colors & textures (at least, up close) that create the visual and emotional impression of the scene.
Tonalism is less about color and more about misty, foggy, or mostly-dark scenery and (often) a glassy surface to the finished work. 

In many cases, both styles are best viewed from a distance of 20 feet or more. That almost always applies to my paintings.
Luminism — which came before Impressionism — is more about the glow, and it's currently a leading influence in all of my work.  (See work by James Augustus Suydam for the glow I'm talking about, and Sunlight and Shadow by Martin Johnson Heade for the colors.)
I also keep revisiting the images from the Like Breath on Glass exhibit, and the audio tour (with images) that's online.  There's something wonderfully rich but also eerie about many of the paintings.  For me, they're compelling and hauntingly lovely.
So, I'm experimenting with different painting styles, pushing my limits and then absorbing what I learn from each experience.
The painting shown above is this morning's sunrise study. It shows a fleeting moment and the rapidly changing skies.  The original is 9″ x 12″ on canvas board.
At right is a detail from the painting.  That's about a one-inch section of the canvas, from top to bottom.
I think I'm moving away from harsh edges, though many of my sketches will — by necessity of the time available — look somewhat sloppy and ragged.  For me, capturing the light & color at the moment I see it is key.  The urgency in those works is clear, and has its own merits in terms of visual and emotional energy.
Many of those quick sketches will be resources for later, larger, more Luminist works.
Last night, I'd worked after dark, creating a color study inspired by the sunset.  As usual, I was challenged by artificial light (v. painting in the dark) and — when I saw the painting this morning — I wasn't satisfied with it.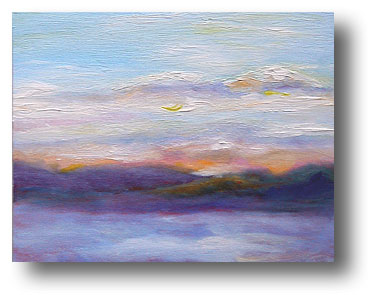 That's it at left, after I worked on it this morning. Fortunately, minor tweaks restored the creative vision that had sparked the work.
I feel as if I'm finding the middle ground (no pun intended) between soft edges and color contrasts.
I'm not entirely sure where this is going, but I'm pleased with my progress.
And, of course, I woke up in the middle of the night with an idea for an abstract painting… and had to sketch it immediately, with notes.
In other words, my art is still a juggling act with a variety of inspirations and influences.
I'm not sure that I'd want it any other way.