Never underestimate the speed, grace or brilliance of a sunset.  I learned that yesterday.
I'd overslept in the morning, and missed the sunrise.  So, even if it was raining, I was committed to painting at sunset.  I'm eager to maintain a productive painting schedule; I feel as if I missed many opportunities in the past year, and I guess I'm making up for that now.
So, as I was setting up my easel by the window, the sky looked okay… but far from great or inspiring.
Then, just as I was choosing the paints to put on my palette, everything changed.  The sky became brilliant with pink, peach, yellow, and white, against a deep lavender horizon.
The hills below were tinged with blue and — by contrast — the greens were vivid.
All of this reflected on the snow in the foreground.
Frankly, if I hadn't been ready when the colors turned that brilliant, I'd have missed my opportunity altogether.  The sky looked like this painting for… well, maybe 10 minutes at the most.
After that, dusk turned to night and the colors faded with the light.
So there I was, painting in the dark to finish the sketch, and hoping that the colors and brush strokes were good.  (I needed to blend two tiny areas this morning.  Otherwise, everything was better than I'd hoped.)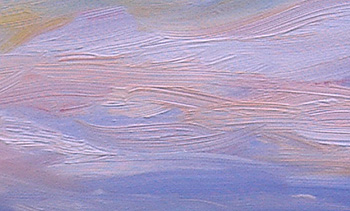 As I'm getting more practice with these oil sketches, a lot of technique is coming back to me.
My brush strokes — some of the sky is shown, at left — are less choppy.  I'm bolder with my colors.  I make more dramatic choices to capture the essence of the landscape.
I'm pleased with my work, and with my progress.
In fact, when I completed this painting last night, I said to myself, "There are days when I wonder why I do anything except paint.  This is one of them."
This sketch may inspire a much larger version, approached as a semi-abstract.  I'm not sure.
Right now, I know that I like this painting… a lot.