Just past sunset last night, the colors in the sky — and reflected in the snow — were fast-changing and amazing.
If I'd had enough paint set up and enough canvases ready, I probably could have completed three or more sketches last night.  It was a spectacular display of every color in the rainbow!
Mostly, I was amazed that I painted three sketches yesterday.  For years, I always thought I had the energy/inspiration for one or two sketches per day, full stop.
Today's three sketches — each of them good — have opened a door for me.   I'm seeing where I got some ideas about my limits as an artist.  That's pretty darned good… in the "better late than never" category, that is!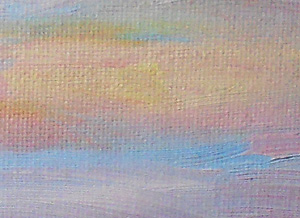 This sketch — a quick, simple landscape painting — is on an 8″ x 10″ canvasboard.  The medium is water-soluble oil paints, applied thickly and with no water or other painting medium.
At right, you can see some of the detail in the sky.
Though this landscape painting was intended to convey the sense of peace and stillness at dusk, I think there's a subtle energy in the nuances of color in the sky and the snow.  I deliberately kept the hillside very simple, so not to detract from the other colorful elements in the painting.
For me, this oil sketch is a little gem.  It's another step toward painting large canvases again.
Interestingly, as I paint these quick sketches, I'm thinking in terms of some abstract works as well.
I'm not sure that I'll paint today, because I had to scrub my wooden palette this morning — to clear off dried, leftover paint — and it's still rather soggy.  However, I may sketch a concept for an abstract.
Being an artist is tremendously satisfying.  Oh, it feels risky at every step, but it's worth it.
People take chances every day, whether it's crossing the street, getting on a plane, or any of a thousand other risks.  I'm not sure why creating art — and especially putting it in front of the public — feels as scary as it does, but the thrill of creating the art makes it a worthwhile adventure.