After several days of clouds, rain, and a little sleet, the sun was shining today. That meant great natural light for painting… wonderful!
I've been itching to get back to this moonlit landscape. It's at the point where I'm working on details, and that means paint a little, and wait for it to dry. Then I can paint a little more, and wait again for the paint to dry.
Depending on the amount of white paint in the work, that can take a week, two weeks, or even three. (White paint is the slowest to dry, and since I'm building up layers of paint, thicker paint can take forever to dry.)
So, whenever there's sunlight and the canvas can be worked on, this is a really exciting part of any painting.
It's a lot like writing a novel.  The beginning is energizing.  The conclusion is exciting, to see how all the elements come together.
The middle phase… it's often an emotional slump, and it can be filled with trial-and-error experiments.  Trying to rush that part is natural, and one of the worst possible things you can do.
There are times when a painting will sit in that phase for months.
Right now, I can see a canvas leaning against the wall.  It's huge — about four feet wide and three feet tall — and it's been in that middle slump for over a year.  It's difficult not to look at it as a failure trophy.  (I talked about that in December.)
However, I'm not rushing it; if I did, I might lose the spark that it has.  At some point, I know I will look at the canvas and say, "Ah-HA! Now I see what it needs."
That's exactly what happened this past week, as I looked at two paintings that I thought were completed, but they never really had the sparkle I like in my work.  Now, I know that they will.  (Each requires the same very minor tweak.  I'll post photos here, when I work on them.)
Most of my paintings are completed within two or three months.  However, some of my work – if I'm patient with it – can take longer and still turn out really well.
This painting – the moonlit one – is more typical.  It's taken a couple of months from start to finish.
I struggled with it a little, immediately after roughing-in the general light and dark areas.  Then, it's like it took off.  I was in flow with it, and everything since then has been like the downhill side of the roller coaster:  Fun, fun, fun!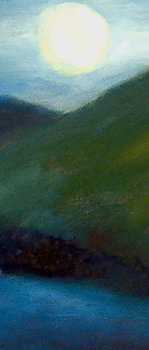 This painting – of the White Mountains region near Whitefield, NH – is at the completion phase.  It's exciting. I can hardly wait to see what the next layer of paint will add, and how much more it will come alive.
Today, I outlined the building (a local hotel, the Spalding Inn) more clearly, so it has its distinctive shape.
I also added more light around the moon, and darkened the far left part of the sky; that distinguishes the scene as a moonlit scene, not a daytime scene.
(In the detail at left, it might be difficult to tell.)
I evened-out the tone in some areas, so some of the mountains sort of blend into the darkness.
All in all, this was a really good day of painting.  I'm pleased, and I know this painting is within a few days (painting days, that is) of completion.
This is when I get really excited about my work.  It's taken on a life of its own, in a way.  It has its own energy, and I can hardly wait to see how it turns out!