Working on a book based on my 2002 "Looking for a Fairy Tale" art journal, I was struck by an image I'd used on May 4th, 2002 and a similar one in yesterday's collage.
It's the tiger's eyes.
At the top of this page, you'll see the 2002 collage – admittedly a scan that needs improvement. (The original journal is buckled and warped after being carried to – and passed around at – arts events where I taught, throughout the U.S. and Canada. So, I may have to photograph some of the pages instead of scanning them.)
The 2002 Journal – "Looking for a Fairy Tale"
I created the 2002 journal when I was going through a difficult divorce. From the start, the marriage had challenges. For me, it was rebound, but I wanted to believe I could make it work, anyway.
For him…? I'm still not sure.
But, by 2002, he said he wanted a divorce. After over 15 years, he saw no point in trying to reconcile.
I insisted on staying until our youngest was ready to leave for college. With some persuasion by our marriage counsellor, my husband reluctantly agreed.
The interim period was difficult, to put it mildly. To get through it, I journaled daily. Each was a torn-paper collage.
Day by day, I poured my heartache onto the pages, in words and images, mostly from magazines.
During that year+, my soon-to-be-ex- met a local woman he later married. As far as I know, it was a true love match and they're still together, smiling. I'm glad that worked out.
I also met someone, online, but he was thousands of miles away and much younger than me. So, it took me a very long time to understand he was interested in me, romantically.
Frankly, I wasn't confident we were a good match. That uncertainty, and related ups & downs in our long-distance conversations, were reflected in my 2002 journal.
A few months before the divorce, my online friend and I met in real life. Now, nearly 20 years later, he and I are still together, married and smiling, and laughing every day. I can't imagine what this journey would have been like, without his continued support.
The Newest Collage (2021)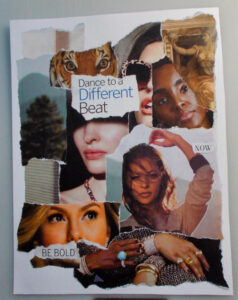 This collage – assembled yesterday (1 Feb 2021) – has some resonance with the 2002, if only in the tiger's eyes.
You can read about it at my previous article, Dance to a Different Beat.
The 2002 collage is approximately 5″ x 8.5″ and created with torn magazine pages, copper foil, copper marker scribbles, and Golden Gel Medium in a spiral-bound sketchbook.
The new collage (Dance to a Different Beat) is 8.5″ x 11″ and created with torn magazine pages, on acid-free art paper.