Last evening's sunset was another rich tapestry of colors.  Mostly, I wanted to capture the delicious lavender colors in the sky, accented by pinks and yellows.
More and more, I'm introducing intense colors and odd juxtapositions as I see them.
Sketches – including this one – look absolutely amazing at 30 feet.  Up close… the magic seems to evaporate and it's just paint… areas of color and texture.
It's an interesting phenomenon, somewhere in-between Impressionism and something better described in abstract terms.
I'm also realizing the importance of impression-based paintings.  Even the camera cannot capture the nuances of color and contrast.  The following photo was taken shortly after I started my sketch, and… well, you can see how much the photo lacks, compared with the painting.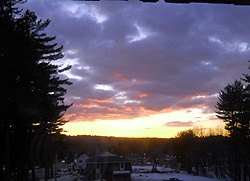 The painting is on an 11″ x 14″ canvas, and the medium is oil paint.