This is a work in progress. I began painting it in early January 2021, from one of my favorite photos. Here's the original photo from Oct 2014: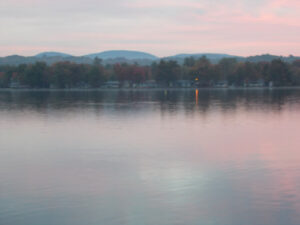 For the finished triptych, I want slightly more vivid colors, but a similar sense of calm, beauty, and peace. So, I've started with somewhat exaggerated colors and contrasts. (And I increased saturation in the printed photo I'm working from.)
That helps me analyze the composition, color choices, and effects.
First, I sketched-in the general composition. Here's how it looked on 7 Jan 2021: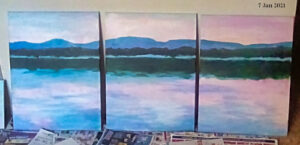 Of course, I kept working on the painting, but – for me – this is a relatively slow process. I study it to see what works and what doesn't. What attracts my attention, and if that's what I had in mind as I envisioned the piece.
As of 7 Feb 2021, the painting is as you see it at the top of this page.
It will go through many more changes before it's finished. That's what happened with my painting for the Huntsville wedding.
As I look at this triptych now, I can see that I've lost some of the "watery" quality in the foreground. I'm not happy with the upward tilt of the treeline, at the far right canvas. If anything, it should go down slightly, so – as your gaze travels across the triptych – it doesn't come to a screeching halt at the right. The painting should provide a sense of an endless, glorious continuation of that landscape.
But, I am pleased with how much softer the shoreline is, and the start to the reflected landscape immediately below it.
(And yes, the paintings are sitting on junk mail. It may as well serve a purpose. To the left, you'll see a sheet of tracing paper. I used that over the original photo – at front center – to divide the photo into thirds.)
I'm not sure how long it will take to complete this piece. A lot depends on the "ah-HA!" moments as I study the work, so far.
But, I do like this triptych, and it's a happy reminder of a truly spectacular month in a cabin by Lake Winnisquam.
As an artist, author, affiliate, and Amazon associate, I earn from qualifying purchases of my own work and recommended products.