I homeschooled my three children for many years. (See Why We Homeschooled.) Each of them also attended public schools for a year or so, and two briefly tried private education, as well.
All three went to college. And all are living lives they've chosen, some more unusual than others.
This may be important: I homeschooled while pursuing a writing career (under several pen names, for book publishers and magazines), as well as my work in art journaling (as Aisling D'Art).
So yes, you can do this. Really.
Two Important Points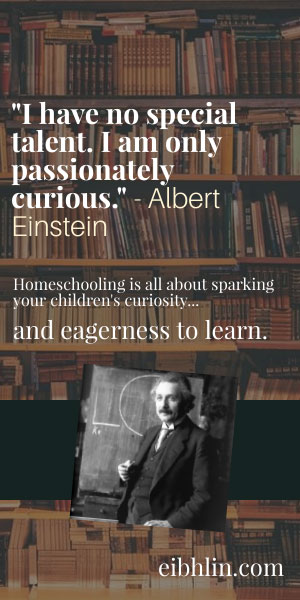 If your children are suddenly at home, and you're in blink-blink mode, almost overwhelmed by the idea of homeschooling, here are two things I want to say:
First, don't try to fill a full school day with activities.
Classrooms aren't an ideal way for teachers to provide the one-on-one attention many students need.
So, curriculum materials include lots of activity sheets, workbooks, and exercises.
They keep children busy – and learning – with minimal supervision.
That's so teachers can have a few minutes with each student that needs personal attention.
In other words, you don't have to keep your kids busy from 9 AM to 2:30 PM, or whatever their usual schoolday schedule is.
I've seen various schedules for  Covid-19 homeschooling. Jessica McHale, the photographer, offers a great one.
Here's another by Erica, aka Confessions of a Homeschooler, though her day is far longer and more structured than would have suited me.
At the other extreme, here's one "unschooler's" schedule, by Bridgett Tulloh. In my opinion, that kind of schedule might work with very little ones or teens, but the in-between years… maybe more structure might help.
Rachel Wolf's unschooling rhythms may suit many families better than anything else I've listed here. Take a look at it before you decide where to start.
In general, like the idea of an hour or two of formal study in the morning, and an hour of educational activities – or independent study – in the afternoon.
During the rest of the day, if you've inspired your kids to learn, and given them a strong sense of curiosity, I think they can pursue their own academic interests.
Second, don't try to do it all. Especially when you're starting out. 
Schools have resources you probably don't. Like science labs and equipment. And gymnasiums. And music rooms. And so on.
Do what you can with what you have. You may like suggestions at this Washington Post article: Veteran home-schoolers share tips for parents...
Parents can shine in some areas, and the attention – and educational freedom – they can provide… that can make a huge difference.
Homeschooled children can achieve great things, academically.
If you're anxious about your kids missing out on something important, read this: Three Harvard students on lessons of homeschooling. (In fact, read it even if you're not anxious. It's a great article with powerful insights.)
How to Find Time for Homeschooling
When I homeschooled, I saved time in the kitchen (as well as saving money) with once-a-month cooking.
Whether you cook for a few days, a week at a time, a couple of weeks, or the full month… well, batch-processing meal-related tasks can save a lot of time.
I couldn't have homeschooled and prepared good, affordable meals at the same time. Once-a-month cooking worked well for us.
For household chores, I'm still a fan of the old-school approach of the Sidetracked Sisters. (That's the book I used, and yes, that's an Amazon affiliate link, so you don't have to wade through a bazillion similar books.) A popular alternative, available online: FlyLady.
Basically, you'll set a firm schedule and – unless something unusual requires immediate attention – you'll stick with your schedule.
For example, I currently vacuum on Mondays and Thursdays. If someone drops a few cookie crumbs on the carpet in the meantime… the crumbs stay there until the next vacuuming day. (Well, unless it's a true disaster that needs immediate attention.)
Meanwhile, no guilt, and my house remains relatively clean.
My schedule works best when I have one Big Cleaning Day (laundry, vacuuming, trash collection, etc.) and one Light Cleaning Day, each week. Your mileage may vary.
In-between those two cleaning days, I have a few daily chores, such as spritzing all doorknobs, keyboards, remote controls, faucets, light switches, etc., with a cleaning solution that includes a little water, a little dishwashing soap, and a lot of rubbing alcohol. And then I let it dry, as-is, unless there's visible dirt. (If there is, I clean it and then spritz-and-let-dry.)
But, the key to having time for homeschooling is to maintain a schedule as best you can. It doesn't have to be perfect… just as regular as you can make it.
And be sure to include time for yourself, every day. That's important.
Some Resources
These are some resources I've listed at my personal Facebook page. I'll keep adding to these as I find more fun & useful links.
Free crossword puzzles, Sudoku, Kenken, etc. – best for older students.
Free coloring pages – Here's one of mine, and you can find more links at Facebook group: Rose Meadows, and at Rose-Meadows.com.
Storytelling (books read to children) – St. Luke's UMC Bedtime Stories – Freebies at Audible.com – Frozen's "Olaf" (Josh Gad) reads stories, too.
Art classes –  Mo Willems lunchtime doodles (great for little ones, too.) – Cathy Johnson's watercolor sketching (best for older students & adults) – Lots more links to art classes & related resources
Science – Check the many livecams at Explore.org and use them as starting points for lessons about nature.
Fitness – If you can think of a fitness or dance class you'd like to include in your daily routines… YouTube probably has one. I especially like how calming Tai Chi is, and Don Fiore's 20-minute video for beginners & seniors is a great starting point for all ages. https://youtu.be/HSk2ZCmeQHs
Creative Careers – CreativeLive streams free classes, usually related to creative hobbies and careers, such as photography, Etsy shops, blogging, and so on.  These can be so helpful if you're building (or starting) a home-based business, and the classes may appeal to teens, as well.
Entertainment – This could be a very long list, but here are a few to get you started. Marion Cultural and Civic Center offers The Empty Concert Series. The Paris Opera House is streaming concerts and rehearsals.
For those who love Disney (as we do), why not visit some Disneyland attractions via YouTube…? Best on TVs, with the volume up good & loud: SoCal Attractions 360.
You can also visit 12 famous museums from around the world, via online tours and exhibits. And you'll find lists of national parks and other attractions you can visit, via the Internet. See Travel & Leisure's article with lots of links.

If you discover additional resources, I hope you'll link to them in comments, below. I'll check them out and approve the ones I like best. (In other words: Since this blog attracts spammers, I manually check all links before the public can see them.)
As an Amazon Associate, I may earn a small amount from qualifying purchases. But, I don't link to any products I wouldn't recommend to my mother. Or your mother. Really. And, as an author, I earn royalties from any of my books you choose to read. So, thank you!  Amazon and the Amazon logo are trademarks of Amazon.com, Inc, or its affiliates. Your mileage may vary, and - by the way - my favorite ice cream is mint chip, and I often write in my robe and slippers. Aren't you glad you read all this...? lol