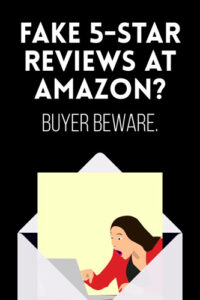 Unless I'm in a really giddy mood and pretty much everything in my life is five stars, I avoid leaving five-star Amazon reviews. That's so no one will confuse my real Amazon reviews with the fake ones.
How prevalent are the fake ones…?
I have no idea. I've heard that Amazon is getting aggressive about removing fake five-star reviews. It could be an overwhelming task.
Sellers are eager to give some of us free products, or – in this case – actually pay us as well, IF we post five-star reviews at Amazon.
Here's a typical request I received in today's email:
Hi there,

Thanks a lot for sharing your experience on amazon, which helps all customers a lot!

In order to express our appreciation, we would like to invite you to our free product test activity, you can get them for totally cost-free! 
If you share your experience of a 5-star review on amazon, we'll send you extra $5.

1. Yoga Pants, perfect for yoga, exercise, dancing, or everyday wear.
2. Vibrating Jade Roller for Face, essential tool to keep your face in beauty, oriental secret!
3. Beard Trimmer Kit, for beard head body & face nose and ear hair trimmer.
4. Over Ear Bluetooth Headphones, Hi-Fi Stereo Sound with Deep Bass, 2020 Handmade Style.

So please let me know if you are interested, I will be more than happy to send you the detailed procedures.

We are the top seller in many categories, we'll offer you more and more products and wish we could establish a long-term partnership!

Best Regards
Ivy
Note the emphasis on the free gifts and the cash payment for a five-star review. (Routinely, I delete these kinds of requests. I'm only sharing this because I know some friends are eager for any income they can find. Accepting this kind of offer can jeopardize your Amazon account. Don't do it.)
Screenshot: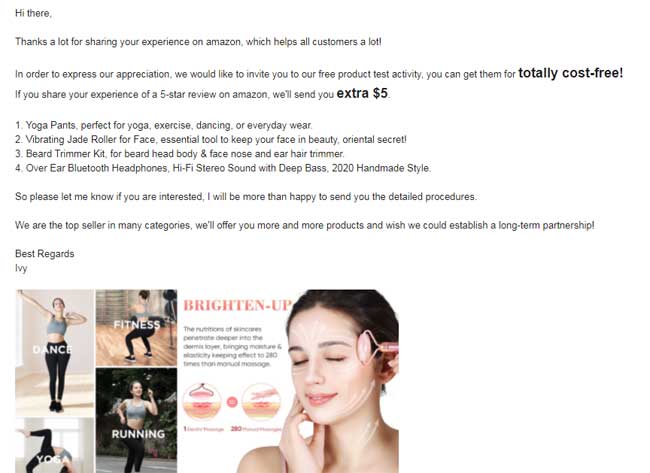 Yes, that's what highly ranked Amazon reviewers (like me) see on a regular basis. And no, I don't accept those offers.  Never.
So, when you see a product with what seem to be too many five-star reviews – at least a questionably high percentage of them – and the product doesn't look like people should be that consistently excited about it… beware.
And please don't think this is an okay way to supplement your income. Amazon has had a legitimate review team – called Vine, and access has been by invitation only.  (I'm wondering if "Ivy" chose that name, hoping to confuse people.)
Note: I wish Amazon gave reviewers an easy way to forward/report sleazy offers like this, but they don't.